Hilti introduces BIM-enabled construction robot
3 min
Construction automation solution to help MEP contractors tackle productivity, safety and labour challenges on jobsites...
Hilti, the multinational developer of tools, technology, software, and services to the commercial construction industry, has introduced its first robot for semi-autonomous mobile ceiling-drilling, making a further step towards the digitisation of construction sites.
The Hilti Jaibot construction robot will help mechanical, electrical and plumbing (MEP) installation contractors tackle productivity, safety and labour shortage challenges. The construction automation solution executes its tasks based on Building Information Modelling (BIM) data.
"The productivity of the construction industry has been lagging behind other sectors for years. Margin pressure and shortages of skilled labour are already facts of life in our industry and make it increasingly difficult to overcome productivity shortfalls. But leveraging the opportunities offered by digitisation will compensate for it. We do this by intelligently linking processes, teams and data," said Jan Doongaji, member of the Executive Board, Hilti Group. 
"With Jaibot, and in close collaboration with our customers, we are further stepping toward realizing the efficiency that digital transformation can and will bring to construction sites."
Hilti explains that the robot is a completely cordless, easy-to-use system that doesn't require expert skills to operate. 
"It locates itself accurately indoors, drills the holes dust-controlled and finally marks them according to the trade. This is what makes the solution ideally suited for the MEP trade," the company elaborates further, adding that there is a paradigm shift underway in the construction industry. 
"Time and budget overruns are common in large construction projects, and significant productivity gains can be achieved with digitally planned construction projects, and their realisation with the help of robotic solutions. BIM-enabled robotic solutions also make the construction process more transparent with improved execution speed, consistent performance, and fewer errors.
"Daily progress can be reported from the field to the project office, via cloud computing. Potential conflicts between trades on a jobsite can be detected at an early stage, and then limited, resulting in more projects being delivered on-time and within budget."
Furthermore, the company adds that safety of workers played an important role in the development of Jaibot as it has been designed to assist tradespeople in physically demanding, repetitive installation tasks, such as drilling numerous holes overhead for many mechanical, electrical or plumbing installations.
The robot can be navigated by a worker via remote control and uses reference data from a robotic total station – the Hilti PLT300. Holes within reach are drilled automatically, the company adds.
"We looked at which routine work on the construction site is among the most stressful, and that is primarily overhead work," said Julia Zanona, product manager for Robotics at Hilti. 
"From the beginning, it was important to us to develop a robotic solution that supports our customers where it is most needed. The Hilti Jaibot takes over the most strenuous and exhausting tasks, working alongside the installation team," she concludes.
Will AR transform hospital construction?
3 min
XYZ Reality and UCL have been awarded a UK government grant to extend XYZ Reality's AR solution to new hospital construction projects...
The pandemic has focused minds on healthcare like never before with construction projects mushrooming globally.
The UK Government aims to build 48 new hospitals by 2030, committing £3.7 billion to projects so far, though a significant number are rebuilds. The full list is available here. 
Overall, the New Hospital Programme within the government's long-term health infrastructure plan will help develop new sustainability standards, planning capabilities and care and workforce models. It will also implement "cutting-edge digital technologies" across the NHS, and will support an integrated approach to building new healthcare infrastructure using modern methods of construction. 
One of those technologies gathering momentum is Augmented Reality (AR), which projects virtual images into the user's line of sight, and can be used on-site as a tool for creating the structure exactly as the design intended. 
According to a Research Dive report, the global AR in healthcare market is projected to generate revenue of $1,918.6 million by 2026, at a CAGR of 25.5% in the forecast period from 2019-2026.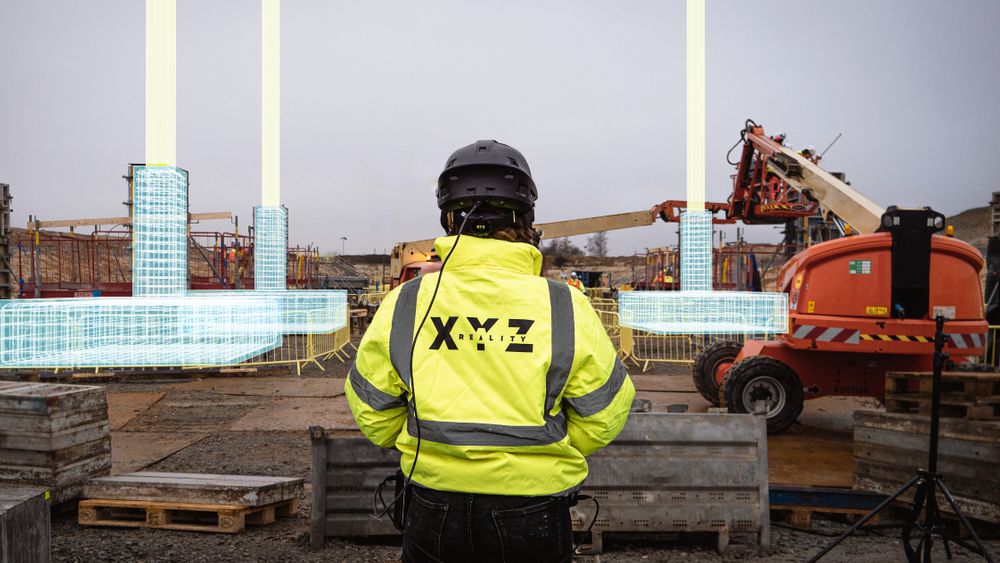 London-based construction technology start-up XYZ Reality and UCL, were recently awarded a government grant, via UKRI and the Innovate UK Knowledge Transfer Partnership (KTP), to develop XYZ Reality's AR solution. 
Founded in 2017, XYZ Reality developed Engineering-Grade AR to tackle some of the most pervasive and costly issues facing the construction industry. Its technology enables users to view hyperscale BIM models on-site in real-time and to millimetre accuracy, making it particularly beneficial for projects with complex MEP services, such as hospitals or data centres. 
Dr Grant Mills, Faculty Lead for Health and Associate Professor, said hospitals are complex construction environments because of the sheer range of MEP services involved. "This often leads to clashes and errors in the build phase, and the need for expensive and time-consuming re-work," he said.
Prof Duncan Wilson, Professor of Connected Environments in UCL Bartlett CASA, said the grant offers an important opportunity to understand how AR can help different users interact digitally with the environment in novel ways, and by doing so improve productivity, and deliver time and cost savings.
XYZ Reality's founder and CEO David Mitchell said its Engineering-Grade AR technology is already being deployed on construction projects with the same levels of complexity as hospital builds, and is generating significant time and cost savings.
"I'm passionate about supporting the NHS, so I'm glad that this research will enable us to fully understand the benefits that our technology can offer these specific projects, and help those constructing UK hospitals to build it right, first time," he said. 
New technologies were key to delivering projects in double-quick time as the pandemic swept the world.
The North Lantau Hospital Hong Kong Infection Control Centre opened in late February following five months of construction. Using BIM, it produced 3D renditions of architectural projects, and shared layouts and other information with factories in mainland China, reducing on-site construction waste.
According to estimates by Goldman Sachs, AR and VR are expected to grow into a $95 billion market by 2025. 
But in terms of AR and new tech's benefits to healthcare, it's still early days. The King's Fund study published in April found "very little evidence of their impact on the health system to date, or benefits such as cost-effectiveness," though AR is being used for surgical planning and training.